Staten Island OutLOUD has served our community since September 2001, with hundreds of free programs. We're all volunteers, and we conserve every paper clip.
We've never charged admission fees. In fact, we seldom ask our guests for donations. But program costs add up, and we appreciate any support our friends can provide.  Our current Donor Honor Roll appears below.
We recognize that it's not always easy to make charitable donations. We're grateful to our friends and neighbors, who support OutLOUD's work in many ways. Some people give a few dollars a year – we appreciate that kindness.  Other friends give larger amounts, and we're thankful for their generosity. Everything helps, everything is put to good use, and nothing is wasted!
For the cost of a pizza slice, you can have an impact on Staten Island OutLOUD's work!
Staten Island OutLOUD is a 501(c)(3) tax-exempt organization; your contributions are tax-deductible.    To make a safe & secure online contribution, please click on the link below:
Donate Online
If you prefer to donate by check or money order, kindly send it to us at this address:
Staten Island OutLOUD
PO Box 10253
Staten Island NY 10301
You will receive a gift receipt, and a note of thanks from your friends at Staten Island OutLOUD.
Thank you!
STATEN ISLAND OutLOUD's HONOR ROLL of DONORS: 
Grants & Awards:  National Endowment for the Arts – The Big Read,  Staten Island Arts (with public funding by the New York State Council on the Arts, in partnership with Gov. Andrew Cuomo and the New York State Legislature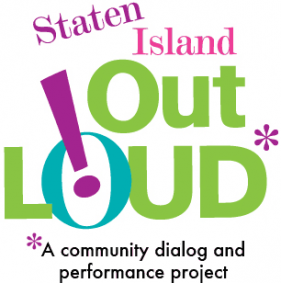 ),  Stettenheim Foundation
Community Sponsors: Eltingville Veterinary Practice (Dr. Danielle Pugliese, DVM), RPM Insurance Agency (Mark E. Russo, Frank Picciuro, Edward J. Maloy), Honor Wines (Lorie & Robert Honor), South Shore Physicians PC (Dr Paul Gazzara & Dr Viola Ortiz)
Community Allies – Gifts of $500 & up: Victoria Hallerman & Dean Thompson, Doris Nielsen, Gregory Taylor & Family (In memory of Carl Taylor), Beth Gorrie
Community Pillars –  Gifts of $200 & up:  Bay St. Animal Hospital (Dr. Robert Cohen, DVM), Norma Herz, Billee & Carl Ludders,Yolanda Rudich & Larry Zinn
Community Stalwarts – Gifts of $100 & up:  Suzanne & Paul Ainslie, Anonymous, Barnett Shepherd, Alice Bergeron Aurelia, Nancy Myers & Christopher Benbow, Margaret & Marc Chase, Roberta Cook-Jerro, Joan Harrison & David Ng, Michael Harwood, Kristi Pfister & James Hill, Kathleen & Patrick Jordan, Laura Drew Kelly, Richenda Kramer, Susan Master, Elizabeth O'Connell, Bernadette Paulo, Thomas Paulo, Mary Pat Roggenburg, Staten Island Creative Community, Kate & Nick Titolo, Natasha & Enrique Zapata
Community Builders –  Gifts of $50 & up:  Dr. Ted Brown, Sarah & Michael Clark, Bridget McMahon Carles, Kathryn Carse, Laura Jackson-Cavalleri, Lalitha Devi, Prof. Edward & Maria Fiorelli, Helena & Avi Gvili, Deborah Herr, Kelly Kuwabara, Sue Ehrlich & Howard Mayle, Susan Grabel & Prof. George Rappaport, Joan C. Harmon, Gail Middleton, Catherine Paulo & Stephen Brown, Luci Paul & Arnold Simon,  David S. Seeley, Pablo & Marta Vengoechea, Patricia Whitehouse
Community Supporters – Gifts up to $50:  Virginia Allen, Anonymous, Prof. Frank Battaglia, Judith Borrie, Elaine & Tom Callow, Dennis C. Coll, Carolyn & Pat Corbo, Jane Cronin, Prof. Richard & Margaret Currie, Carol & Bill Dalton, Anne K. Devlin, Priscilla Ellseworth, Barbara Feigelman, Diane & Robert Figur, Phyllis Foreman, Ruth Levy, Susan & Richard Maren, Robin Locke Monda, Mary Jane Nealon, Mary Nettleton, Sheila & Raymond Pezzoli, Nancy Quin, David Quintavalle, Carmela Rafael, John Rap, Rosanne Raso (honoring Roger McClanahan), Prof. Margarita Santiago, Myra Shapiro, Prof. Ellen Simonetti, Veterans of Foreign Wars – Mariners Harbor Post 521 (honoring Staten Island veterans), Prof. Steven & Erika Zuckerman